Clean:
Remove and clean the power meter and chainrings using a mild soap and water solution.
Check:
Check all bolts for correct torque values. The crank arm retention bolt on a DUB crank set should be torqued to 54nm. Crank arm retention bolts on other crank sets should be torqued to 48-54nm. The chainring bolts should be torqued to 10-12nm (steel SRAM bolts), 12-16nm (Shimano bolts), or the manufacturer's specifications for 3rd party bolts.

Torque the battery compartment bolt (2mm or T10) to 1nm.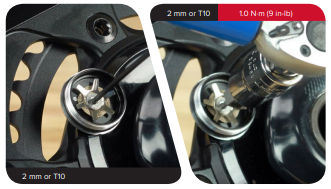 Lastly, gently bend up the 6 battery contact points to ensure good contact with the battery.
Install:
Install a brand new CR2032 battery.
Update:
Pair the power meter to the SRAM AXS App for all DZero power meters or to Qalvin Legacy (windows/Mac) for legacy power meters. Ensure the power meter is on the latest firmware version. If not, perform the update now.
Zero:
Perform a Zero Offset. This should be done prior to every ride if you are on a firmware version older than version 10.
Firmware 10 introduced MagicZero, enabling your power meter to perform the zero offset while you ride.
Ride!
You can now get right back to riding!